A free guide to controlling cannabis with color.
WHAT CAN YOU DO WITH A PROGRAMMABLE SPECTRUM?
Click Download for a free guide on cannabis and color.
Plants use spectrum to learn about their environment and make decisions about growth. Fine tune both physical and chemical development and grow with precision.
A programmable spectrum is a flexible investment that keeps up with new reseach. This future proof adaptable technology keeps the competitive edge even as the market changes.
The Avici grows seed to harvest under one light, streamlining work flow and minimizing labor. With an easy to use controller, changing seasons takes only the touch of a button.
Controlling Development

with a

Programmable Spectrum
Spectrum Determines Development.
Darker colors increase
bag appeal
in crops such as lettuce and cannabis. A darker color influences perception of freshness and quality and purchasing behavior.
Anthocyanin pigments (flavonoids) are responsible for the red, purple and blue colors of many fruits, vegetables and flowers and are influenced by spectrum and light intensity. 
A spectrum with a high blue content prompts plants to darken with richer reds and purples tones. Cultivators can add blue to an indoor spectrum to drive color development, or to suppliment seasonal deficiencies during winter and early spring. 
Click for Studies on Spectrum and Color:
If you're growing something for its chemical content, be sure to grow a potent plant.
A plant's chemical profile is decided by the interactions of its genetic potential and the environment.
A fuller spectrum results in better development of cannabinoids, flavinoids, and other chemicals. We've attached some studies below.
Click for Studies on Chemical Expression:
Plants use different wavelengths of light to determine things about their environment. Ratios of color tell the plant where it is in the canopy, which it uses to decide whether to stretch out or remain compact. This process is called Photomorphogenesis.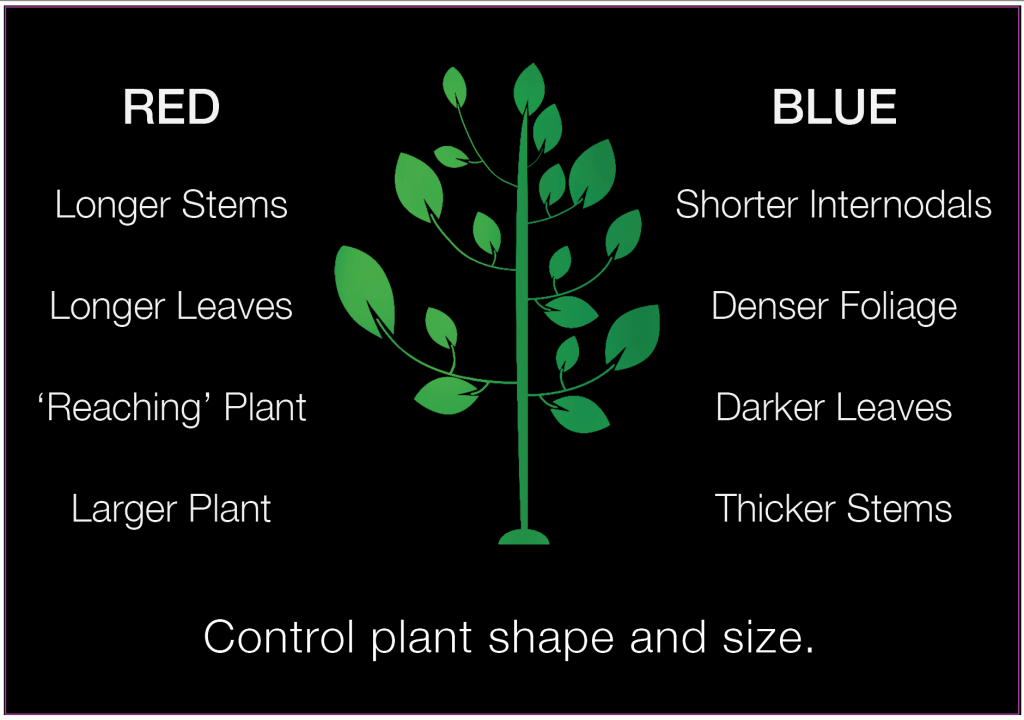 The basics are easy. Higher red content makes plants stretch, higher blue content keeps them compact. You can design your spectrum to instruct the plant to grow the way you need it, be that shorter for racking applications, or longer and leafier for greens. We've linked some resources below so you can start learning.
The Effect of Red to Blue Ratio
Red light creates longer, 'leggier' plants. Red is important to drive growth, but without other colors causes plants to stretch.
Blue light creates short, dense plants. It's good for shortening internodal spacing and darkening color.
MORE RESOURCES ON PLANT ARCHITECTURE